titanium heat exchanger tubes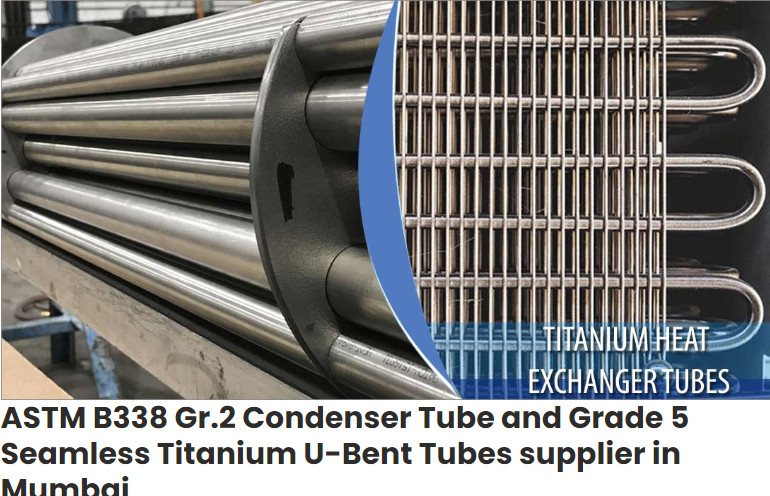 Business Type
Exporter, Supplier, Distributor, Importer
Country of Origin
India
Type
Air Compressor Heat Exchanger
Material
Stainless Steel
Click to view more
Product Details
Certification
ISO 9001:2008 Certified
Usage
Water, Oil, Air, Heat Transfer, Hydraulic And Industrial Process
Speciality
Reliable, Robust Construction, Easy To Use, High Efficiency
Port
Jawaharlal nehru port
Delivery Time
10 to 15 days
ASTM B338 Gr.2 Condenser Tube and Grade 5 Seamless Titanium U-Bent Tubes supplier in Mumbai
Titanium heat exchanger tubes are made up of different titanium alloys. There are over 40 different types of titanium alloys. The use of the tubes are different such as the titanium condenser tubes which are used in condensers and the heat exchanger titanium tubes which are used in heat exchangers. Titanium is a naturally strong metal and the alloys have different ratios of titanium in the composition. there are also commercially pure titanium tube and shell heat exchanger types with alloy titanium materials. The tubes can be seamless, welded, forged or electric resistance welded. The finned titanium tubes are used in special purpose applications. There are different specific types of tubes such as the Titanium U-bent Tubes which are used in heat exchangers. The U tubes have an advantage of not needing much bend connectors in the system. The Seamless Titanium U Bend Tube is used in dimensionally accurate high sensitive heat exchangers. The different grades of titanium come at different costs. The Titanium Grade 5 Heat Exchanger Tubes are quite common as they have a balance of strength, corrosion resistance and cost efficiency. The Titanium fin and tube condenser is used with condenser applications which have to handle cryogenic temperatures. The titanium alloys have high temperature resistance to elevated temperatures as well as cryogenic temperatures. So the titanium finned tube condenser and other tube types are used in high pressure, high temperature and cryogenic applications as well.
Buy from Verified Titanium Tube and Shell Heat Exchanger manufacturers in your country, an ISO certified Ti Grade 2 and Gr 5 U Tube suplliers in Mumbai, India
Looking for "
titanium heat exchanger tubes

" ?
Kilogram